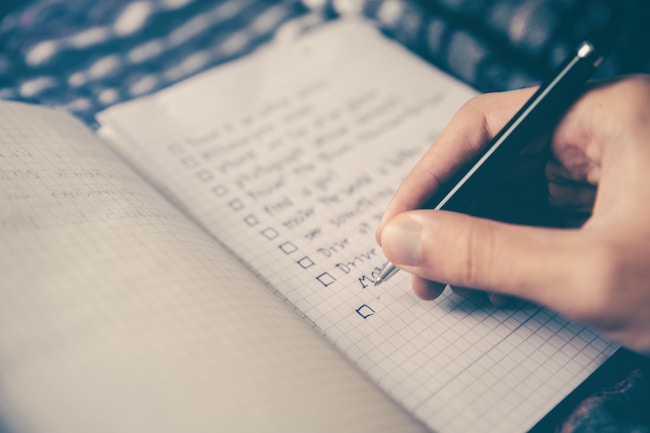 The full moon of the Mid-Autumn Festival is on the wane, but our private school application season is only beginning to wax. It's now time to turn your eyes away from the autumn sky (and yes, from those scrumptious moon cakes, too) and look squarely at where you are in the application process. 
Today we at KEY provide you with a useful checklist to help you take an honest look at where you are in the process. Of course, the exact position you should be in varies depending on the deadlines you're facing; for example, families who are applying for JK and K at Collingwood should be nearing the end of completing their application package, with the deadline less than two weeks away on October 15. But for most schools and grades, the following list gives you a good idea on whether you're ahead of or behind the curve:  
I am knowledgeable in my target schools and versed in their application procedures.
Knowledge is currency in all aspects of life, and the private school application process is no exception in that regard. The wealth of information you possess about a school's characteristics, requirements, and application procedures provides you with a clear roadmap to success and a distinct advantage over your competition. Whether through your own research or expert advice, you should have a profound understanding of what your target schools want in an ideal student.
I have created an application account for each school and filled out the profile portion of the application.
Perhaps you've been procrastinating, thinking it doesn't take too long to create an online account and enter basic information about your family and child. But what you may be neglecting is the fact that you'll need to repeat the process of account creation and data entry for three, five, or however many schools that you're applying to, not to mention ensuring that the information inputted is accurate and in good English. If you haven't yet, you should get the ball rolling as soon as possible.
I have registered for or attended an open house/information session.
School visits represent a great and rare opportunity for you to get an inside look at your target school. It is also a chance to introduce yourself and show your genuine interest to the school and its admissions staff. This is a crucial step in the application process that you should never forego.   
I have identified the suitable referees and secured their help in writing a reference letter.
Writing a reference letter or filling out a reference form is serious business: your referee needs sufficient time to observe and reflect on your family and child, in addition to planning and composing the letter itself. You can't expect the referee to write a fabulous endorsement for your readiness to attend a top private school if you don't give him or her the wherewithal to do so. It is recommended you make the request two months in advance.
My child has registered for the SSAT and is training intensively in preparation.
Private schools place great importance on your child's ability to succeed academically. The SSAT is one method of measuring that ability, and some schools rely on their own internal assessment methods. Either way, it is imperative that your child displays a high level of English proficiency and mathematical prowess, and this often requires intensive training. Of course, you can only take the SSAT if you're registered for it, and you must reserve your seat before the spots fill up. In most cases, private schools do not accept test scores obtained after early December, and regular registration ends roughly a month before the test date (late registration requires an additional fee).
I have begun planning and drafting parent and student statements.
In addition to academics, a top private school emphasizes the importance of your "fit"—whether you possess the unique characteristics that will enrich the culture and vigor of its community. That's why schools want thoughtfully written parent and student statements that really tell the story of who you are as a family and as a student. It's important that you give yourself enough time to plan and craft these statements carefully so that you can paint a fascinating self-portrait that schools can't pass up. 
Now, let me ask: Where are you in the application process? We at KEY certainly hope you're well on your way to success. If you're behind, then we hope this list has helped you identify your next course of action and motivated you to take it. To help you visualize and execute it even better, we leave you with the key dates to note in the next 30 days, along with a promise to check back on your progress in two weeks. 
Key Dates to Note in the Next 30 Days
Application Deadlines
Collingwood, JK & K: October 15
Mulgrave, K: November 1
St. George's, Gr. 1: November 1 
Open Houses and Information Sessions
Collingwood
JK & K Open House: October 10
Mulgrave
PK3, PK4, & K Information Session: October 24
Gr. 1—11 Drop-In Open House: October 26
Crofton House
JK, SK, & Gr. 6 Group Campus Tours: October 17
Gr. 6 Open House: November 1
JK, SK, & Gr. 8 Open Houses: November 3
West Point Grey Academy
Sr. School Tours: October 4, 11, 18, & 25, and November 1
JK Information Session: October 10 & 25
Jr. School Tours: October 17 & 24, and November 2
Stratford Hall
Sr. School Open House: October 4
Meadowridge
Open House: October 5
St. George's
Jr. School & Sr. School Open Houses: October 10
Sr. School Information Evening: October 23
Jr. School Information Evening: October 25
St. John's
PYP-Focus Open House: October 24
Southpointe
Open House: October 23
Southridge
Jr. School Open House: October 18
York House
Admissions Coffee Morning (Mandarin): October 17
Scholarship Information Evening: October 23
Little School Open House: October 27
SSAT 
Test Date: October 13
Regular Registration (for the November 30 Test) Ends: October 20